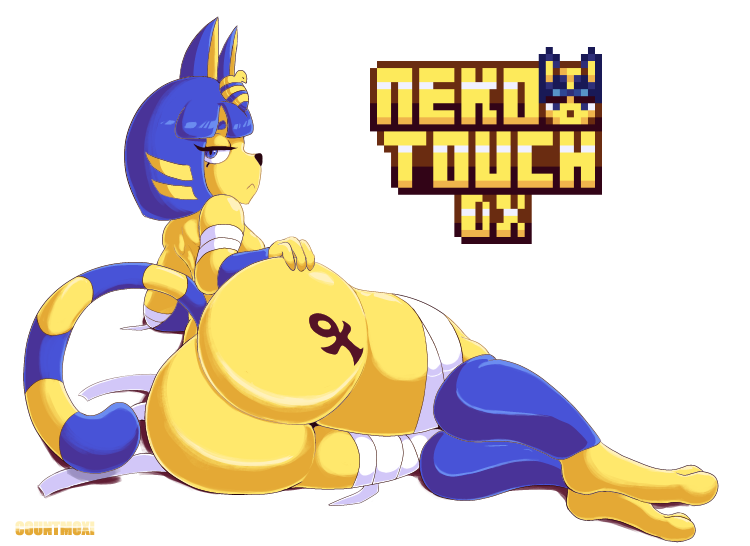 Neko Touch DX
* Note the game doesn't work in Safari unless you enable 3rd party cookies. But for security reasons I'd recommend getting the downloadable version instead. It also might not work on "In Private" or "Incognito mode" for browsers.

The web build had some issues with the music when loading scenes, so I had to manually fade the music in and out for each scene. This doesn't happen in the desktop version though so you can download one of those instead if you want the sound to consistently play. The Linux and Mac builds are also untested so let me know if they have any major problems.
(18+ only. This game contains strong sexual content. All characters depicted are 18+. )
This game is a fan based parody. Countmoxi is not affiliated or associated with these legal entities on any terms.
Current Status: Completed.
//Controls// -------------------------------------------
Mouse or Touch screen for clicks
----------------------------------------------------------

This is a tiny game (64 x 64 pixels) I made to get back in the swing of things. This time featuring everyone's favorite Egyptian cat.
Gameplay is simple. Simply click to touch her butt.
DX UPDATE IS NOW AVAILABLE!
Featuring 2 new scenes (Oral and Butt Job) and a gallery button. As well as all the game's sprites being remastered and improved!
Mini-Guide:
Anal scene: Click her butt until she asks for sex
Oral Scene: When she asks for sex, keep clicking her butt until you see the "Oral!" button pop up

Vaginal scene: Keep clicking her butt after the Oral button pops up and she'll tell you to take a seat
Butt Job scene: Don't click her butt at all and she'll get increasingly frustrated until she takes you into the scene
If you enjoy works like this, you can support my Subscribestar or Patreon to help me make more games and animations!
Countmoxi on SubscribeStar.adult

https://www.patreon.com/countmoxi
I also update my blog weekly so you can check that out as well: https://countmoxi.blogspot.com/
Hope you enjoy the game!
Credits:
Art, Code, Animation - Count Moxi
Music: Play on loop- Pyramid Sands
Sound Effects: https://freesound.org/
Sex Sound effects: Orange Lovers
Download
Click download now to get access to the following files:
NekoTouch DX Linux.zip
34 MB
Neko Touch DX Win 64.zip
33 MB
NekoTouch DX Win 32.zip
34 MB
NekoTouch-DX-Mac.zip
34 MB